SPREAD THE LOVE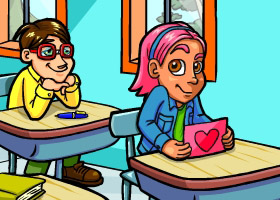 By Audrey Smythe-Wei
Editor-in-chief
Thursday, February 7, 2008 — Valentine's Day is fast approaching.

It's always been a time for you to express your feelings to the people who are close to you. Your friends and family are probably the first people that come to mind when you think about this.

No matter how you look at it, everyone enjoys getting a thoughtful Valentine. It all comes down to expressing your feelings.

This can sometimes be a difficult thing to do, but the feeling you get from opening up, and the feeling you give to that special someone is more than worth it.

People all around Millsberry are celebrating the holiday in their own way.

When asked about his usual Valentine's Day activities, Oliver Wendlewort, the Millsberry Mercantile Bank Manager, commented, "I usually take my family out to dinner".

"Flowers and candy are nice, but it's also great to be able to spend time with the people you care about", added Oliver.

According to Loretta Rivers, owner of Wearhouse and Studio T, Valentine's Day can also be a chance for you to tap into your creative side.

"I really like to make my own Valentine's Day cards. It really adds a personal touch to your message. And the time you put into it really shows how much you care, which in my opinion, is what Valentine's Day is all about. It's also usually more fun than going to the store and buying a card", said Loretta.

Sometimes finding a unique present can make a loved one's Valentine's Day. Carla Robbins, owner of Bookends, tries to take this into account.

"I try to find something really special or rare that I know they'll like. You have to really know the person in order to pull it off, but in the end, it's worth it. Keep your ears open and you'll hear all sorts of useful information. I usually look for a book or something that can reflect their interests", commented Carla.

"The main thing to remember is that no matter what, anyone will appreciate a thoughtful Valentine. Express your feelings, and you'll be in good shape."

One thing's for sure: Cupid will be hard at work in Millsberry.

---
TIME TO GET THOUGHTFUL

Thursday, February 7, 2008 — With Valentine's Day just around the corner, you'll want to keep an eye out for some extra-special items dropping into town next week. There's a little something for everyone. Whether you want to get sentimental, or just let a friend know you care, you'll be able to provide for any Valentine's Day need.
Ad blocker interference detected!
Wikia is a free-to-use site that makes money from advertising. We have a modified experience for viewers using ad blockers

Wikia is not accessible if you've made further modifications. Remove the custom ad blocker rule(s) and the page will load as expected.