LASLO BALINT KICKS OFF FEED CHILDREN IN MALAWI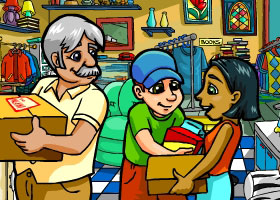 By Everett F. Stevens
Staff Writer
Thursday, May 1, 2008 — Taking on a new project can be a very rewarding thing. When that project benefits others, it can be even more rewarding.

Laslo Balint, director of donations, has just kicked off Feed Children in Malawi.

Feed Children in Malawi will be a donations effort benefiting the people of Malawi. In case you were wondering, Malawi is a country located in southeastern Africa.

Malawi is bordered by in the north and the east by Tanzania, on the south by Mozambique, and to the west by Zambia.

Malawi literally translates to "glitter of the sun rising across the lake". The country lies within the Great African Rift Valley, and Lake Malawi is the country's centerpiece. Malawi is considered the warm heart of Africa.

Recently, a massive drought has left many children in Malawi short on food. Laslo Balint was traveling in Africa when he came across Malawi meeting many of its people, and seeing that they were in need.

"I was on a safari tour in Africa. I had never been to Malawi before. I immediately took note of the country's incredible beauty", commented Laslo.

"As we traveled around Malawi more, I noticed that the children there were really in need. I met more and more children and saw that there was a real shortage of food. Despite their problems, the children of Malawi were some of the nicest people I've ever met."

"I really wanted to help these children in any way I could. That's when I started thinking about creating Feed Children in Malawi. I knew if I could rally the people of Millsberry, I'd be able to create a lot more support than I could provide myself", added Balint.

With Feed Children in Malawi, every Millsberry citizen will have the opportunity to help Malawi by donating food to be sent. Food donations can be made in increments of 100 Millsbucks, reaching up to 500 Millsbucks.

For every 100 Millsbucks donated, Millsberry will donate 1 real dollar to provide food for Malawi.

"Our goal is to raise $10,000 dollars to buy food for the people of Malawi. I'm really excited about the opportunity to give these people some much-needed aid. I think everyone in Millsberry, no matter how much or how little they donate, can really make a positive impact."
---
HOBBIES GET INTERESTING

Thursday, May 1, 2008 — Do you like to tinker? Do you find you have unique passions? During the month of May, different hobbies will be explored. Get ready for a trip into the world of special projects that grab your interest and don't let go. There are countless hobbies that interest many of us. It's time for a closer look.