DAD'S DAY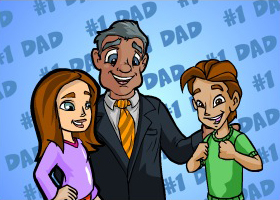 By Everett F. Stevens
Staff Writer
Thursday, June 12, 2008 — The day we honor a very important person in our life is drawing near. That's right, Father's Day is just around the corner.

You may be wondering how you can make Father's Day special for your Dad. It shouldn't be too difficult according to Mayor Trumble.

"Normally, I just enjoy spending time with my family. Aside from that, I always enjoy getting a thoughtful card."

"Whatever the gift is, it's always the thought that counts," added Trumble.

Our Fathers have always been willing to spend time with us. Whether it was helping practice a sport or ride a bike, or giving you valuable advice when you had a problem, they were there.

They have also passed on some very important knowledge. This could include anything from learning how to camp or fish, or learning the difference between right and wrong.

We have to hand it to our Dad's. They helped us out when we needed it most.

It's on Father's Day that we get to repay our Dad's for everything they've done. Whether that be fixing something around the house, or simply taking you to go see the movies.

Luckily there are some cards in the post office that may help you celebrate this important holiday.

After that, no matter what you decide to do, we're sure you're Dad will appreciate the effort.

There are also a lot of fun things you can do with your Dad to spend time with him. Why not go watch a baseball game, or get outside and throw the Frisbee?

Or you could go see a movie, or have a barbeque if the weather's nice.

There are plenty of options, so feel free to mix it up.

After all, it is the thought that counts. It will surely be a day to remember.
---
SUMMER FASHION KEEPS HEATING UP

Thursday, June 12, 2008 — With temperatures soaring, summer is definitely here - so why not dress for it? The Clothing Store is fully stocked with fantastic new fashions, and it's a perfect place to spend those extra millsbucks. Check out tankinis, surfin' shorts, pink ruffle skirts, and lots more.

Owner Loretta Rivers suggests light clothing for these hot months. "Bright colors like yellows and whites reflect the sun's rays better than dark blues and reds, so you might stay a little cooler with, say, this yellow wrap skirt. Ooh, I might have to buy this one myself."

Also available: summer accessories to make any house a party palace, including a barbeque grill, summer lounge chairs, umbrellas and sunflowers. Head over to the Furniture Store while supplies last!