JENNEIRA PULLS A LOW FLY-BY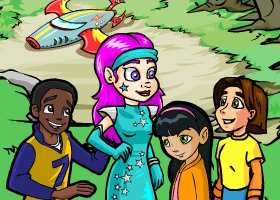 By Everett F. Stevens
Staff Writer
Thursday, July 24, 2008 — Our intergalactic BFF Jenneira teleported herself (once again) to the humble town of Millsberry.

This time, when she left, she decided to take some of Millsberry's most talented pilots back with her to outer space, to compete in the Intergalactic Games (and to see some high-flying action).

It's reported that Jenneira plans to take the young pilots on a warp-speed tour of the Milky Way and several other galaxies yet to be named.

"Well actually, it's a light-speed tour. Warp-speed is so five eons ago. But yes, it's going to be an intergalactic tour, culminating in the Intergalactic Games.

"We'll be checking out some solar systems, planets and maybe even some black holes. Who knows? Should be great, to say the very least," commented Jenneira.

"I've decided to select the top 50 pilots to go with me," added Jenneira.

"At the top of the list we have the Top 10, the intergalactic mavericks, if you will. Here's the list."

Jenneira reached into her intergalactic pilot jacket and pulled out a list written on space paper.

On the list were the following names:

1. giggles6701
2. condy16
3. tboateng
4. mokmok111
5. leggie96
6. bella6666tiana
7. amann3000
8. pukgi
9. stefaniemay2000
10. jameylewis

"I'm looking forward to getting to fly with these talented young pilots. They might even teach me a thing or two."

"I also look forward to showing them around my home planet and letting them sample some of the local space cuisine. And no, the food isn't freeze-dried. We developed a special technology to allow us to eat it normally so we can enjoy its full space flavor," commented Jenneira.

The lucky 50 pilots were seen boarding Jenneira's spacecraft.

"Don't worry, I'll bring them all back in one piece!"

With that, Jenneira swiftly jumped into the pilot's seat and teleported off, leaving nothing but a bright flash.
---
INTERGALACTIC SOUVENIRS

Thursday, July 24, 2008 — For her visit, Jenneira brought enough intergalactic S.W.A.G. (a.k.a. stuff we all get) for everyone in Millsberry to enjoy. In her box of space goodies we found some snowballs from Neptune, a little Plutonian wallpaper, a moon buggy and adorable alien pets from the Orion Nebula. She also left everyone some authentic intergalactic space suits. Everything you need to explore the final frontier.