NEW EDITOR AT MILLSBERRY GAZETTE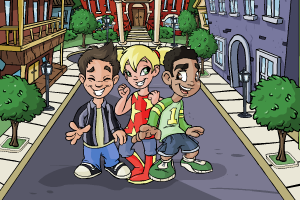 Wednesday, August 4, 2004 — An emotional ceremony was held at the Millsberry Gazette today as its long-standing editor Terrance Earl Wentle handed the keys to his office to the new editor, Jason O'Brien. The ceremony is a traditional one, begun two hundred years ago by the original editor of the newspaper, Mr. Arthur Yates.

"This is how it's always been done," Mr. Wentle said, putting the keys to his office in young O'Brien's hands. "And when it comes time, I know you'll do the same thing."

The newspaper's new editor promised a dedication to the traditions of the paper while also bringing in new technologies to make it even better than before. "We will not compromise our journalistic integrity," he told spectators at the ceremony." For two hundred years, the Gazette has lived by it's motto: Truth Unafraid. I will make sure we maintain that standard of quality."

The Millsberry Gazette published its first issue over two hundred years ago, just after the founding of the city. Since then, the Gazette has seen ninety-two editors, each being passed the keys to the building. Although, for fifteen years, those very same keys were lost!

In the nineteen seventies, the keys were misplaced somewhere in the office and they weren't found again until the early nineties. One of the janitors, Patrick Gregory, found them behind a printing press in the basement. He was made Honorary Editor for the Day, another tradition that the staff honors.

Once a year, a random member of the staff is chosen to be Editor for the Day. That person makes all the decisions for the paper. Needless to say, the office is very strange that one day of the year!

Mr. Wentle was editor of the paper for over forty years before passing on the reigns to his young Assistant Editor. When asked about his confidence in his successor, the former editor joked: "Jason's been in charge of the paper for five years, he just didn't know it."
Ad blocker interference detected!
Wikia is a free-to-use site that makes money from advertising. We have a modified experience for viewers using ad blockers

Wikia is not accessible if you've made further modifications. Remove the custom ad blocker rule(s) and the page will load as expected.