NEVER STOP LEARNING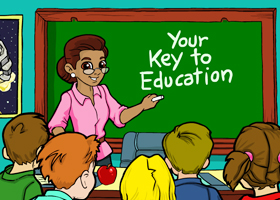 By Audrey Smythe-Wei
Staff Writer
Thursday, September 4, 2008 — It's September, which means one thing: it's back-to-school time. As you throw on your backpack, we thought we'd offer a little insight on your education: it doesn't just happen inside the class-room.

Some say knowledge is your key to the world, so it's important to make sure you're getting the most out of everything you learn, no matter where you are in life.

This has been found to be true by several Millsberry citizens.

"I think I learn something new every day," said Mayor Trumble.

"It's something I have to look forward to. There's always something out there that surprises me."

"Did you know the human head weighs 8 pounds? My 8-year-old daughter told me that the other day," added Mayor Trumble.

"I don't think I'll ever stop learning."

Regardless of how smart we get, there's always something else we can learn.

And the things we learn can come from anyone - from your parents, family, friends, and of course, teachers. You can learn anywhere.
One of the greatest teachers we have is the world around us. Experience can be the most valuable education you can get.
"My trip to Paris enlightened me," commented Loretta Rivers.

"You think you have a handle on your field of expertise, and then you find out there's still much more to learn".

"I had never heard of haute couture (which I found out means high fashion), but now my clothing is just inches away from getting that coveted designation. I couldn't be happier about it."

"I've been reviewing the T-shirt designs. Amazing stuff. I've even learned a few things from the aspiring Millsberry designers out there."

"I look forward to making the big announcement."

So how do you learn new things?

You can do things like putting together a puzzle or going to an art museum.

There are field trips for school, but why not take your own personal field trip to wherever you want to go?

Take a tour of a factory or go camping and learn about nature.

So as you go back to school, remember: learning doesn't stop when you leave the school building.
---
The Little Mermaid Comes to Millsberry

Thursday, September 4, 2008 — Ariel has come to Millsberry to celebrate the release of The Little Mermaid - Ariel's Beginning DVD and she has brought some great items that can be yours just by visiting her site. Whether you want striking red hair like Ariel; a cool Flounder T-Shirt; a mermaid tail; or a hair and a crown like Neptune you can collect them all right now! Plus watch an exclusive preview of her new DVD, only for Millsberry citizens.
Ad blocker interference detected!
Wikia is a free-to-use site that makes money from advertising. We have a modified experience for viewers using ad blockers

Wikia is not accessible if you've made further modifications. Remove the custom ad blocker rule(s) and the page will load as expected.