THE MILLSBERRY ANNUAL TRICK OR TREAT EXTRAVAGANZA IS HERE!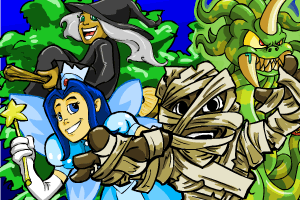 Friday, October 22, 2004 — It's that time of the year again! As the weather grows colder, the days get shorter, and gold and red leaves swirl down the streets of Millsberry, everyone in town is readying their scariest, prettiest, and overall coolest costumes in preparation for the annual Millsberry Halloween Trick or Treating Extravaganza!

According to Mayor Oliver Trumble, the event will begin at 12:01 am (CST) on October 29th and continue until the stroke of midnight on October 31st. During these three days, the citizens of Millsberry will be handing out treats to everyone wearing a costume who rings the special Halloween doorbells that will be placed by the front door of all homes, courtesy of the Millsberry Town Council. Mayor Trumble also stated that this year the Town Council has recruited a small army of community volunteers to help decorate every house in Millsberry. So don't be surprised to see cobwebs, candles, and spooky pumpkins decorating your yard on October 29th!

If you don't have your costume yet, be sure to head over to Tricks, Toys & Games, located in downtown Millsberry. They have a great selection of costumes at very affordable prices.

Event tips: the Gazette recommends using the Millsberry Address Book to plan your trick or treating route. Simply put in a name, find out where that citizen lives, and pay them a visit!

The Gazette has learned from a reliable source that all citizens who participate in the Trick or Treating Extravaganza will receive a special award commemorating their participation in this annual event. No one is quite sure what it will be yet, but Millsberry is buzzing with curiosity!
Ad blocker interference detected!
Wikia is a free-to-use site that makes money from advertising. We have a modified experience for viewers using ad blockers

Wikia is not accessible if you've made further modifications. Remove the custom ad blocker rule(s) and the page will load as expected.