DOUGLAS WRIGHT WINS MAYORAL ELECTION!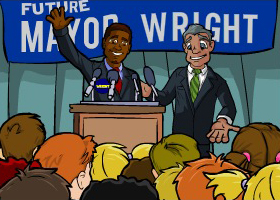 By Everett F. Stevens
Staff Writer
Thursday, November 6, 2008 — The Millsberry Gazette is pleased to announce that Douglas Wright has won the 2008 Millsberry Mayoral Election.

This historic occasion was welcomed in by all as Millsberry citizens waited on pins and needles for the final results to come in.

Current Mayor, Oliver Trumble, was on hand to congratulate Douglas Wright and offer some advice for the future Mayor.

"It's quite a large responsibility to say the very least. But I welcome the responsibility, and it's an honor to have served as the Mayor of Millsberry."

"If I could offer any advice to Douglas Wright, it would be to make the most of every day you have here as the Mayor of this fine town. Seize all opportunity to improve our city and put the people first."

"I am completely confident that Douglas Wright will do a great job, I can rest assured that I'm leaving Millsberry in the best hands possible."

We were able to catch up with Douglas Wright just after the results were announced for a few words.

"I can't tell you how happy I am right now. I'm thrilled to be given this honor and responsibility and plan on doing all I can to make sure that Millsberry is the world class city it needs to be."

"I've learned so much from each of the other candidates, and I hope to be able to use that knowledge to everyone's benefit once I'm Mayor."

"The wheels are already turning. I've got so many ideas for what I want to accomplish here in Millsberry. I'm really excited about getting started and can't wait until inauguration day in January."

When asked how they planned to celebrate the victory, Douglas Wright responded, "That's a good question. I've been so shocked and overwhelmed, I haven' really thought about how I'm going to celebrate tonight."

"As long as I'm with my friends and family and surrounded by the good people of Millsberry, that will be enough for me."

"I'm sure whatever we do to celebrate will be a lot of fun. It's going to be a long night. There's a lot of work ahead, and I sincerely look forward to it."
---
4th ANNUAL HALLOWEEN CHALLENGE A SUCCESS

Thursday, November 6, 2008 — A frighteningly good time was had by all. The Millsberry Community Center Halloweeen challenge turned out to be a tremendous success. Many citizens collected several ghoulish items, while others enjoyed getting dressed up in their favorite Halloween costumes. However you chose to enjoy Halloween, we hope you had a great time. Keep an eye out in your stuff for your Halloween Challenge participation trophies this week.
Ad blocker interference detected!
Wikia is a free-to-use site that makes money from advertising. We have a modified experience for viewers using ad blockers

Wikia is not accessible if you've made further modifications. Remove the custom ad blocker rule(s) and the page will load as expected.