NEW HAIR STYLES, COMPLIMENTS OF TANIA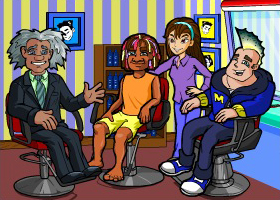 Thursday, December 4, 2008 — Tania's hard work paid off as she showcased her amazing new hairstyles yesterday.

She worked tirelessly with her volunteer models Mayor Trumble Kai and Coach Danner. It was a tough process, but in the end, the extra hours showed.

"Whew! I'm ready for a nap," exclaimed Tania, when finally reached for interview.

"This time, I let my scissors do the talking, and I think they said an earful," she added.

The new hairstyles were released to much excitement and anticipation, with the citizens of Millsberry understandably eager to see what Tania had in store.

But the citizens who were most eager to see what she would come up with were Mayor Trumble, Kai and Coach Danner.

"I have to say, even though this is completely out of character for me, I do really like it," commented Coach Danner, as he twirled in a circle.

"I think Tania did a great job, though it was kind of a joint effort. She cut most of it—but then agreed to let me finish it off, all by myself. It's the first time I've cut my own hair," laughed Kai.

"Every time I look in the mirror I have to do a double-take. I love it. Some of my friends didn't even recognize me," said Mayor Trumble, when asked about his new hairstyle.

In turn, Millsberry's resident stylist also had a few things to say about the brave model/volunteers.

"They all look amazing. I can't say how appreciative I am for their help. If you happen to see one of them on the street, be sure to pay them a compliment. I'm sure it'll bring a smile to their face," said Tania.

Looks like Tania's about to have a lot more happy customers!

---
Horton Hears a Who Comes to Millsberry

Thursday, December 4, 2008 — The friends of Nool and citizens of Whoville have come to Millsberry to celebrate the release of Horton Hears a Who on DVD and they have brought some great items that can be yours just by visiting their page. Whether you want a speck; an awesome Horton Hears a Who poster; a plush of cute Katie; or an awesome Horton T-shirt, you can collect them all right now! Plus watch an exclusive preview of the DVD, only for Millsberry citizens.
Ad blocker interference detected!
Wikia is a free-to-use site that makes money from advertising. We have a modified experience for viewers using ad blockers

Wikia is not accessible if you've made further modifications. Remove the custom ad blocker rule(s) and the page will load as expected.