TANIA IS ALL COMPLIMENTS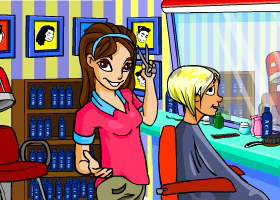 By Audrey Smythe-Wei
Editor-in-Chief
Tuesday, December 30, 2008 — Tania's new hairstyles ended up being a smash hit. Not only did they create a lot of buzz around Millsberry (not to mention a long line outside of Tania's salon), but they also sparked a flurry of compliments.

And all of those compliments got Tania thinking.

"I always felt that giving a genuine compliment was an important thing," said Tania when the Gazette finally caught up with her.

"You have the ability to make someone's day by simply telling them something you like about them. It's so easy, why not do it more?" she added.

Tania felt so strongly about the power of a simple compliment, that she decided to release some brand new greeting cards—available at the post office—that you can use to brighten someone's day.
And she's not alone. Other Millsberry citizens seem to share Tania's sentiment on the power of kind words.

"When someone compliments me on something I designed, or on my outfit, my face lights up," explained fashion guru Loretta Rivers.

"I make it a point to find something about one of my friends to compliment each day. Even if it's something small, it's still significant to them," she added.

Being a politician is hard work, which is especially why Mayor Trumble appreciates a kind word or two.

"There has been a few times where someone wrote me a letter telling me I was doing a good job, or thanking me for all my hard work. It really meant a lot to me," commented Mayor Trumble.

"I know Mayor-elect Douglas Wright is going to do an outstanding job once he's inaugurated. And I'll be sure to compliment him on his great work, as it unfolds," he added.

Even the laid-back types get good vibes from a thoughtful remark.

"When I'm out shredding waves and someone does something extra gnarly, compliments are always in order," explained Kai, who was busy waxing up his board.

"And on the flip side, getting a compliment when you totally rip it up is also pretty sweet. It's all about recognizing the good in people," Kai continued.

It looks like Tania's new greeting cards may be as popular as her hairstyles. Let the kind words fly!
---
DON'T FORGET TO GEAR UP FOR NEW YEAR'S

Tuesday, December 30, 2008 — New Year's Eve is just a day away. To make sure you're ready to throw down for the big bash, take a look at these 2009 New Year's items. These hot picks are sure to liven up any New Year's Eve party—and they're going fast, so don't delay! Then, when the clock strikes midnight, there's no doubt you'll be ringing in 2009 with style.
Ad blocker interference detected!
Wikia is a free-to-use site that makes money from advertising. We have a modified experience for viewers using ad blockers

Wikia is not accessible if you've made further modifications. Remove the custom ad blocker rule(s) and the page will load as expected.