Make a pizza right here, and you'll help a very special cause.

Feeding America is the nation's leading hunger-relief charity, delivering groceries to more than 200 food banks across the country (serving every county in the United States as well as Puerto Rico).

There are lots of pizzas to be made, so get ready to farm!
---
Grow Good Farms Intro Music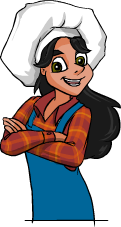 Grow Good Farms, released March 4th 2009, is a farm where players get to make their own one of kind pizzas. Originally for each pizza you made, 5 cents would be donated to
Feeding America
for each crop included in the making of the pizza but that was later reduced to 1 cent. A pizza can be made at a maximum of once every 4 days that is if you attend to your crops each day using the tools in the
Tools
tab. If you do not attend to your crops, they will not die but they will not grow either. After your crops are fully grown, you will be able to harvest them and use the crops you have grown to make a pizza. After you have completed making a pizza, you will be awarded with an prize that is based on the ingredients used in the making of your pizza.
Inside The Barn
Edit
Each week the Go-Good bus will be traveling to a new city in the United States, dropping off food donations at food banks. These food banks work with Feeding America (the nation's leading hunger-relief charity), delivering groceries to more than 200 food banks across the country. Help us get there and get cool stuff along the way!
Tend to your three main crops to get access to the road trip. If you get prompted to go on the bus but still have more crops to tend to, close out of the overlay, tend to those crops, and then access the trip again by entering the barn.
Don't forget to still make your pizzas to help make donations. General Mills will donate up to $4,000 each month to Feeding America!
Crops are used in the making of your pizzas. Each crops requires its own plot of land. More plots of land can be unlocked as you make pizzas. Not only does having more crops help make better pizzas, the more ingredients you have for your pizza the more that is donated to Feeding America.
| | | | |
| --- | --- | --- | --- |
| Crop | Description | Crop Icon | Crop Animation |
| Bananas | Bananas were first grown in southeastern Asia, and are popular in desserts because of their soft, sweet taste. Today they're a pizza topping! | | |
| Basil | Basil comes from the Greek word basileus - meaning "king." It's a delicious and healthy way to spice up your pizza. | | |
| Cheese | This fresh Italian cheese melts perfectly when it gets baked, and will melt in your mouth. | | |
| Corn | The most widely grown crop in the Americas. | | |
| Fries | Only in Millsberry do fries pop out of potatoes! They sure give your pizza a surprising salty crunch. | | |
| Hot Dogs | Only in Millsberry do hot dogs grow from the ground! Cut `em up and toss them on your pie, and you've got one hot pizza! | | |
| Olives | The Olive is a fruit from the coastal areas of the eastern Mediterranean Sea. It doesn't taste fruity but it sure adds a delicious strong taste! | | |
| Orange | Oranges originated in Southeast Asia and are known as a "Chineese apple". | | |
| Peppers | The Red Pepper, named by Christopher Columbus, is sometimes sweet and sometimes bitter. But they sure taste delicious on pizza! | | |
| Pineapples | The Pineapple is a tropical plant that come from the southern part of Brazil and Paraguay. It's used in desserts, fruit salads, and today...pizza pies! | | |
| Tacos | Only in Millsberry can you grow Tacos on a farm! Take this traditional Mexican dish and top it on your untraditional Italian pizza! Fiesta time! | | |
| Tomato | Native to South America, this fresh robust fruit makes a magnificent marinara sauce! | | |
| Wheat | Amazing how grass can turn into a healthy whole-wheat crust that's soft & chewy on the inside, and crispy on the outside. | None | |
| | | |
| --- | --- | --- |
| Tool | Tool Icon | Tool Description |
| Grass | | Keep your cow happy and healthy with a fresh supply of grass. |
| Mulch | | Mulch helps keep your crops nourished and weed free. |
| Sun Light | | Photosynthesis is the source of all green life. Make sure your crops get plenty of sun. |
| Water | | Every crop needs plenty of water to grow up fresh and tasty. |
Next to the plant/crop you have selected, there will be an icon of one of the 4 pictures above on each plant. Go to the tool bar at the bottom of the Millsberry screen and drag it to the plant.
Pizza Prize Recipes
Edit
Ad blocker interference detected!
Wikia is a free-to-use site that makes money from advertising. We have a modified experience for viewers using ad blockers

Wikia is not accessible if you've made further modifications. Remove the custom ad blocker rule(s) and the page will load as expected.